Yoga Sutras for Ashtanga Students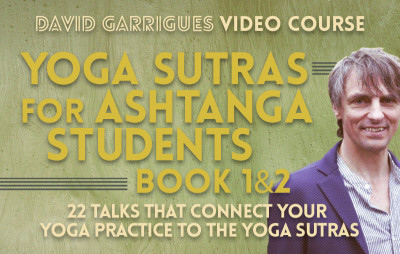 Yoga Sutras Applied to the Ashtanga Practice
Join David for a 22 talk video course on the Yoga Sutras (Book 1 and Book 2) where he breaks down each sutra and relates it to the practice of Ashtanga yoga. There are 10 talks in Book 1 and 12 talks in Book 2. You can purchase each book separately or together. In both books, David breaks down each sutra and relates it to the practice of Ashtanga Yoga.
Book 1
(Samadhi Pada -- 10 Talks)
Talk 1: Sutras 1-11
Talk 2: Sutras 12-16
Talk 3: Sutra 17
Talk 4: Sutras 18-22
Talk 5: Sutras 23-28
Talk 6: Sutras 29-32
Talk 7: Sutras 33-34
Talk 8: Sutras 35-40
Talk 9: Sutras 41-46
Talk 10: Sutras 47-51


Book 2
(Sadhana Pada -- 12 Talks)
Talk 1: Sutras 1-3
Talk 2: Sutras 4-9
Talk 3: Sutras 10-16
Talk 4: Sutras 17-19 (audio only)
Talk 5: Sutras 20-27
Talk 6: Sutras 28-29
Talk 7: Sutras 30-34
Talk 8: Sutras 35-39
Talk 9: Sutras 40-41
Talk 10: Sutras 42-45
Talk 11: Sutras 46-48
Talk 12: Sutras 49-55
How to Access Videos
A note from David
I use a platform called VHX to house all of my video courses. VHX is owned by Vimeo. In order to access your video course you will need to join the VHX platform. Once you purchase the course go to this link, https://www.vhx.tv/login, and log in using the email address you used to check out with at my store. If you ever purchase a future course from me, I recommend you consistently use the same email address so that all of your video courses will be housed under one account. There is a VHX app you can download to your phone or IPad to easily access the course using at any time. If you'd like to download the videos you can do so by clicking into each one individually and downloading it.