Since 1991, David has maintained an enthusiastic daily personal practice that is dedicated to āsana and Prāṇāyāma study in the Ashtanga tradition. His intense commitment to practice and to teaching inspires his students who form a diverse, soulful, open-hearted, and serious global learning community.
David was introduced to yoga at the age of sixteen when a friend taught him the classic set of postures known as Sūrya Namaskāra (Sun Salutations). David maintained a self-taught practice for more than a decade before everything changed when he met Marie Svoboda, Seattle's "grand dame of yoga" in 1991. Attending her classes lit an everlasting fire for yoga in him and he immersed himself in a blazing, resolute study of yoga. During this time David also had the great fortune to study intensively with senior BKS Iyengar teacher Aadil Palkhivala attending weekly classes and participating in many intensives and teacher trainings.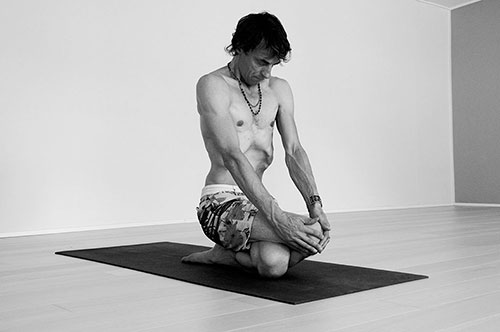 David met Pattabhi Jois in 1993 and over the next sixteen years he traveled to Mysore India more than twelve times to study with the great yoga master. In 1996, Pattabhi Jois granted David a teaching certificate; David is among a small group of Ashtanga Yoga teachers who received a teaching certificate directly from Sri K. Pattabhi Jois. David returned to Seattle and opened the first-ever Ashtanga Yoga studio there.
David now lives in Philadelphia and is an internationally recognized yoga teacher and creator of the Āsana Kitchen video instruction series, one of the leading online yoga learning resources on YouTube. David travels extensively throughout the US, Europe, and India offering workshops, in-depth studies and retreats. He has numerous online courses and is the author of many books including,Vāyu Siddhi: Secrets of Yogic Breathing, Maps and Musings: Writings that Celebrate Haṭha Yoga and the Quest for Self Knowledge, Ecstatic Discipline: 46 Poems for Lovers of Hatha Yoga, Teaching Yoga With Verbal Cues, and Ashtanga Yoga Vinyāsa.
David's mission is to help students of yoga flourish within the living, contemporary lineage of Ashtanga Yoga. He aims to be part of the circle of Haṭha Yoga lovers who are devoted to applying the teachings of Ashtanga Yoga in ways that promote physical, psychological, and spiritual growth in themselves and others.