Covid 19 Instructed Led Primary Series and Philosophy Talk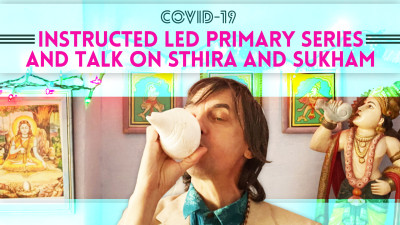 On May 9th, 2020, during the Covid-19 pandemic, 185 students virtually attended David's Instructed Led Primary Series class. The intention of the class was to raise money for the organization Action Against Hunger. After the Led Primary, David spoke on Sthira and Sukham.
Instructed Led Primary Series is 2 hrs and 15 minutes
Philosophy Talk is 1 hr.
Once you purchase this class you will own it. You can stream or download the video. You can download it by clicking the bottom left hand corner of the video.
*Please note, this class was recorded via Zoom.
Download and Streaming Information
1) Once you purchase the course you will receive a message from VHX with a link to your videos. The email will be sent to the email address you input at checkout so make sure you choose an email you frequently use. If you don't see the email in your inbox please make sure to check your spam folder.
2) You can stream or download the course.
3) To download a video, click on the bottom left hand corner of each individual video and you'll see a download button. Unfortunately, you can only download one video at a time.