Covid 19 Instructed Led Primary Series and Philosophy Talk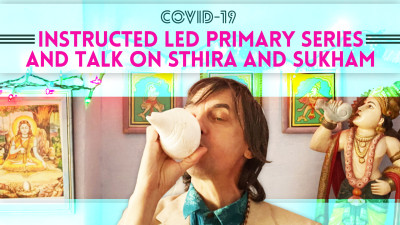 On May 9th, 2020, during the Covid-19 pandemic, 185 students virtually attended David's Instructed Led Primary Series class. The intention of the class was to raise money for the organization Action Against Hunger. After the Led Primary, David spoke on Sthira and Sukham.
Instructed Led Primary Series is 2 hrs and 15 minutes
Philosophy Talk is 1 hr.
Once you purchase this class you will own it. You can stream or download the video. You can download it by clicking the bottom left hand corner of the video.
Please note, this class was originally a Zoom recording so the video and audio quality is compromised.