Ashtanga Yoga Talks: Single Asana Principle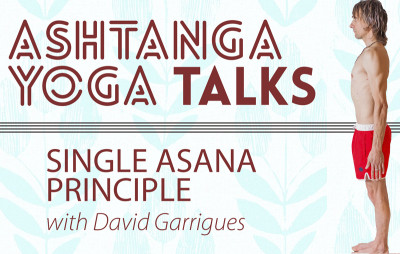 With awareness centered along the glorious middle axis the skillful yogi transfers awareness from the outside to the inside of the body. There she enjoys immovability and a magnificent rootedness within the hips and legs. She releases strain and tension in the head, eyes, ears, tongue, jaw, neck, shoulders, and this prepares the brain for meditation.
*$1.00 from each purchase will be donated to the Plastic Pollution Coalition whose mission is to fight single use plastic.
Understanding your practice as the continual repetition and recreation of one single position is a great contributor to you having the skill and the ability to take responsibility for your learning. The information in this talk gives you a way to approach and get at the essence of any posture you want to do. In this talk I discuss:
1) The theory behind the principle, it's relationship to Ashtanga Yoga and the Bhagavad Gita
2) The Sanskrit word Punya and the 3 prongs behind virtue in the practice.
3) What to work on to illuminate the central axis
4) How to activate your body when you're staying in the pose
5) How to use your skeleton optimally for structural support
6) How to create a steady position