Ashtanga Yoga Talks: Purpose of The 8 Limbs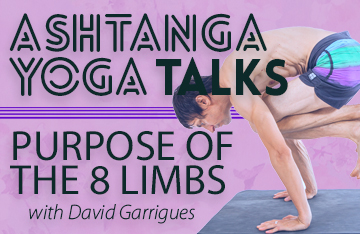 In this Ashtanga Yoga Talk, David discusses the technical aspects of practice that serve to give you the ability to understand what the limbs are asking of you, and the power to make new choices so that you can live by the life principles that they teach.
Download and Streaming Information
1) Once you purchase the course you will receive a message from VHX with a link to your videos. The email will be sent to the email address you input at checkout so make sure you choose an email you frequently use. If you don't see the email in your inbox please make sure to check your spam folder.
2) You can stream or download the course.
3) To download a video, click on the bottom left hand corner of each individual video and you'll see a download button. Unfortunately, you can only download one video at a time.