Ashtanga Yoga: A Primary Series Guide with David Garrigues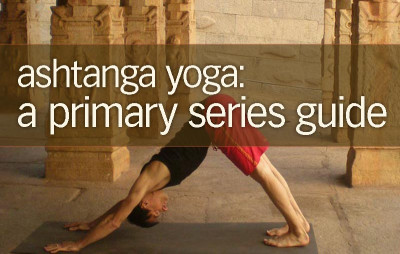 Ashtanga Yoga is a complete Yoga method based on Bhakti (devotion) to a breathing and movement system called Vinyasa. Through Ashtanga yoga you come to realize your Self and your purpose by learning to systematically combine several internal and external techniques including: breathing, internal locks, meditation, posture, conscious movement and gazing.
When these basic techniques are applied with discipline, subtlety and skill, they are excellent tools for becoming physically and mentally strong and perceptive. When you've developed your practice, you learn to 'inhabit' your body like a animal moving freely in the wild and at the same time your mind becomes strong and fit for meditation.
Practicing to create this combination of physical grace and power and mental clarity and openness leads to spiritual awakening. The method consists of learning a rigorous, well balanced sets of postures and the vinyasa positions that form the set sequences. The alternating, opposing movement and breathing patterns within the given sequences help you to internalize your mind and to gain depth and wisdom by observing the true nature of what is happening within you.
VIDEO SERIES INCLUDES:
1) In-depth Instructions on Fundamentals:
Introduction to the set of practices that form the basis of Ashtanga yoga including:
Ujjayi (sound) breathing
Surya Namaskara A & B includes detailed instruction on
Chaturanga Dandasana (Four Limb Staff Pose)
Urdva Mukha Svanasana (Upward Facing Dog Pose)
Adho Mukha Svanasana (Downward Facing Dog Pose)
Vinyasa (learn how to synchronize movement with breath)
Dynamic Transitions (Jump between standing postures, Jump Back and Jump Through
2) 1-Hour 35-Minute Instructed Primary Series
An inspiring and challenging home practice that centers around the 6-core aspects of the practice: asana (posture), pranayama (free breathing), vinyasa (movement with breath), bandhas (internal locks), dristi (gazing), dhyana (meditation).
Highlights:
a variety of verbal cues for becoming absorbed in the internal practices of Ashtanga Yoga
tips for transitioning between postures with flow and alignment
in depth asana and breathing instruction
insights into devotion and the sacred nature of Ashtanga Yoga
3) 1-Hour 30-Minute Traditional Led Primary Series
Helps the student develop:
a proper understanding of the rhythm and flow of the Primary Series vinyasa sequence
cleansing internal heat that stokes the fire of awareness
4) Asana Modifications
This section takes you step by step through many postures of first series and will teach you how to troubleshoot difficult postures, think creatively to find variations that are right for you, use props without sacrificing flow.