2nd Half of Second Series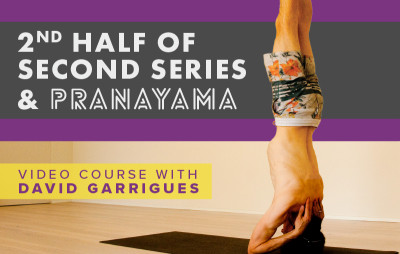 Details
6 hrs total
3 classes (avg 2 hrs)
75% practice/25% talk
In Class 1 and 2, strength building and hip flexibility are the two main asana themes. David teaches the poses from Bakasana through the 7 Sirsasana variations. You will study how to approach these poses safely and extract their particular benefits. Each pose will be presented in a set of logical steps that will clarify how to: 1) target skill, strength, and flexibility 2) determine what is wanted to keep progressing towards greater mastery 3) customize your efforts.
In class 3, the focus is Pranayama. It includes a lecture and practice component. This class is for students who are interested in starting a pranayama practice.
TRAILER
DOWNLOAD AND STREAMING INFORMATION
1) Once you purchase the course you will receive a message from VHX with a link to your videos. The email will be sent to the email address you input at checkout so make sure you choose an email you frequently use. If you don't see the email in your inbox please make sure to check your spam folder.
2) You can stream or download the course.
3) To download a video, click on the bottom left hand corner of each individual video and you'll see a download button. Unfortunately, you can only download one video at a time.