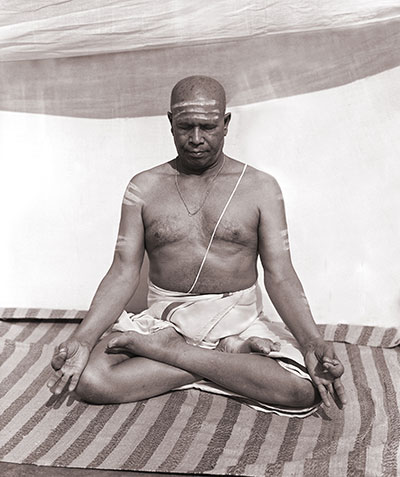 Sri K. Pattabhi Jois (1915-2009) was an Ashtanga yoga master who introduced and taught Ashtanga yoga to the modern world. He was one of the foremost disciples of the Father of Modern Yoga, Sri T. Krishnamacharya.
Pattabhi Jois was the son of a Brahmin priest and astrologer, and received a conservative education. Nobody in Pattabhi Jois's family practiced yoga postures or encouraged him to for at the time in India, yoga practice was eschewed by the society as a fringe interest of renunciates, monks and spiritual wanderers—certainly not befitting for a son of a Brahmin priest. Yet, when Pattabhi Jois was twelve years old, he decided for himself that yoga was to be his life's path. After Pattabhi Jois attended a yoga demonstration by Krishnamacharya, he spontaneously asked Krishnamacharya if he could become his disciple. The great yogi accepted Pattabhi Jois, and for the next two years, unbeknownst to his family, he practiced under Krishnamacharya's strict and demanding tutelage every day before school, walking five kilometers early in the morning to reach the teacher's home. When Krishnamacharya moved into a new residence in another city two years later, Pattabhi Jois ran away from home to follow his teacher. Pattabhi Jois would study with Krishnamacharya for the next twenty-six years.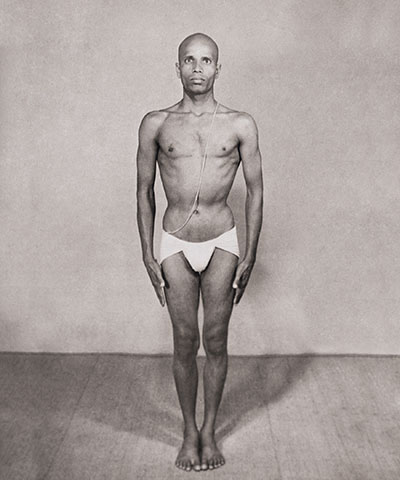 In 1948 Pattabhi Jois established the Ashtanga Yoga Research Institute (AYRI), now known as the Shri K Pattabhi Jois Ashtanga Yoga Institute, in Mysore India. A decade before, the maharaja of Mysore had taken a keen interest in Pattabhi Jois and invited him to set up the yoga department at the city's Sanskrit college. He eventually retired as professor of philosophy in 1973, though he continued to teach at his own Institute until 2008. Pattabhi Jois was married and had two sons, and his grandson, Sharath Jois, currently directs the Institute.
The first of Pattabhi Jois western students arrived in Mysore in the 1960s. The popularity of Ashtanga yoga began to spread some years later, particularly in America, and over the next four decades the Institute in Mysore became a center of yoga practice for foreigners. In 1975 Pattabhi Jois travelled to the United States with his son Manju, and taught at yoga schools set up in his name. He would return to the US periodically over the next twenty years. He published a definitive book on Ashtanga practice, Yoga Mala in 1962, and it was translated into English from his native Kannada in 1999.
Pattabhi Jois taught continuously for almost three-quarters of a century, with no thought of financial gain or fame. He simply followed his calling to offer others the path of Ashtanga yoga. And he taught what he had learned from his guru with unwavering dedication to the lineage, and to his devoted students.
---
copyright © 2009, Shri K Pattabhi Jois Ashtanga Yoga Institute
#235 8th Cross, 3rd Stage, Gokulam, Mysore 570002, Karnataka, India. phone: +91-988-0185-500, email: shala@kpjayi.org