Yoga Sutras Online Summer Course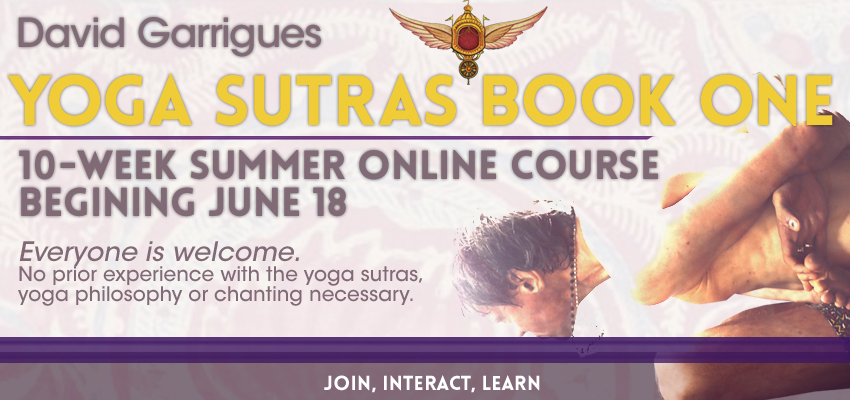 The Course
Over the course of 10-weeks, for 1-hour each Sunday, David will guide you through a study of the sutras in Book 1. The title of Book 1 is Samadhi and is the study of how to attain perfect stillness of mind. In this course you will learn the translation and meaning of each sutra while gaining practical knowledge that will strengthen and elevate your daily asana practice.
Watch the Promo Video!
David is delighted to offer this course inspired by what he learned from his teacher Sri K Pattabhi Jois who taught that a proper study of Ashtanga yoga is not only made up of asana and pranayama (Hatha Yoga) but also includes a study of the Yoga Sutra's (known as Raja Yoga).
"No success in Raja Yoga (Yoga Sutras) without Hatha Yoga, and no success in Hatha Yoga without Raja Yoga. One should, therefore, practice both of these well, till complete success is gained". This quote from the Hatha Yoga Pradipika was a favorite of Guruji (Sri K Pattabhi Jois).
Everyone is welcome. No prior experience with the yoga sutras, yoga philosophy or chanting necessary.
---
How it works
1. Register for the course by purchasing through the link above
2. You will be sent an email invitation to join the Facebook Study Group
3. Join David for live classes at 12pm EST each Sunday on Facebook Study Group
4. The live classes will consist of ten minutes of chanting followed by a 45 minute talk
class dates
Every Sunday beginning June 18 - August 27 at 12pm EST
June: 18, 25 July: 2, 9, 16, 23, 30 August: 13, 20, 27
Q&A Dates
July 8, July 22 and August 21 at 12pm EST