Traditional Vinyasa Count Primary Series Bundle Package of 3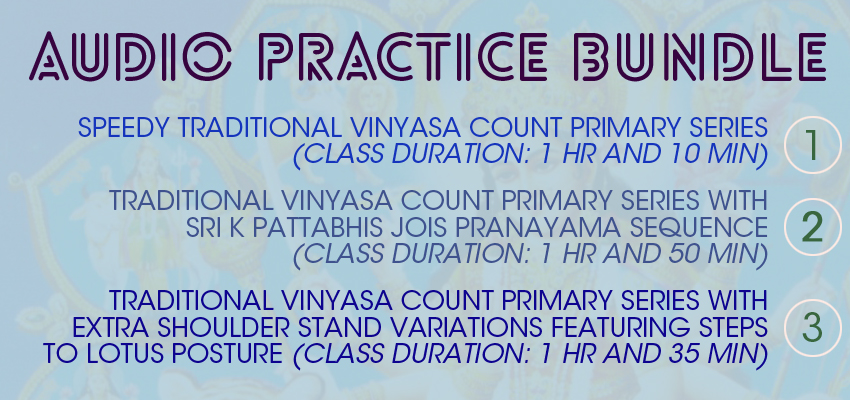 In this bundle package you will receive:
1) Speedy Traditional Vinyasa Count Led Primary Series (1 hr and 10 min)
When you're short on time this 1 hour and 10 minute Led Primary Series is the class for you. Sri K Pattabhis Jois was known for teaching a quick Led Primary Series. In this Pattabhis Jois inspired class, David teaches the Led Primary Series in 1 hour and 10 minutes.
2) Traditional Vinyasa Count Led Primary Series with Sri K Pattabhis Jois Pranayama Sequence (beginner friendly retentions) (1 hr and 50 min)
Do this class and let David provide you with the motivation and inspiration for your practice. He gives you an uptempo session that emphasizes rhythm, heat and flow. Join in and build tapas, strength and stamina. In the pranayama portion of the class the retentions are generally shorter and thus they are 'beginner friendly'. However familiarity with the Ashtanga Pranayama sequence is recommended because the class is taught with minimal instruction so that you can enjoy silence, stillness and absorption during the moments of retention.
3) Traditional Vinyasa Count Led Primary Series with Shoulder Stand Variations (1hr and 35 min)
The special feature of this Led Primary Series is Sarvangasana (Shoulderstand) with additional variations. This original and unique offering provides the dedicated student of ashtanga yoga with an extra study of Sarvangasana within the context of a traditional counted primary series class. David weaves in the extra variations while keeping to the count rhythm and thus you retain the spirit of the traditional class as taught by late master Sri K Pattabhi Jois while at the same time you are taken through a host of new positions that bring welcome variety as well as new interest and increased challenge to you in the finishing sequence.