Asana Principles Workshop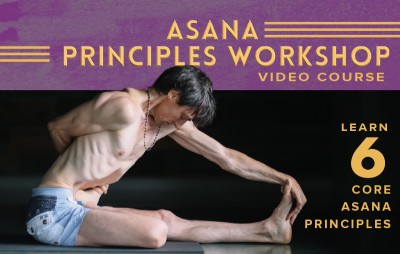 Description
This 6 class course will feature a deep study of the Primary Series and also include insightful talks that highlight the philosophical context of the principles.

Course includes 6 classes:
4 of the classes are asana and lecture based, 3.5 hrs each.
2 of the classes are Led Primary Series with instruction focused on the asana principles, 90 mins each.
You'll be immersed in a clear method for how to develop, troubleshoot, and master any pose or transition.

You'll focus on learning how these principles can guide your actions in all areas of your life.
The 6 Principles are:
1) One Universal Pose
2) One Universal Transition
3) Foundation First
4) The Central Position of the Spine
5) Playing With Pairs of Opposites
6) Awakening Breath and Catching Bandhas
Inspiration
Imagine if you could see any pose from basic to advanced and know how to do that pose in a way that perfectly suits you and your body. Knowing how to apply the 5 universal asana principles to your poses will give you this powerful knowledge. Learn to cut through the superficial, external differences of a pose and pay attention to the deeper, more important, and empowering commonalities that are shared by all poses. Learn an organized thought process that you use to do or develop or troubleshoot any pose.
DOWNLOAD AND STREAMING INFORMATION
1) Once you purchase the course you will receive a message from VHX with a link to your videos. The email will be sent to the email address you input at checkout so make sure you choose an email you frequently use. If you don't see the email in your inbox please make sure to check your spam folder.
2) You can stream or download the course.
3) To download a video, click on the bottom left hand corner of each individual video and you'll see a download button. Unfortunately, you can only download one video at a time.