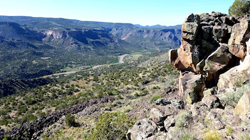 Things to do in Santa Fe
Bandelier National Monument protects over 33,000 acres of rugged but beautiful canyon and mesa country as well as evidence of a human presence here going back over 11,000 years. Petroglyphs, dwellings carved into the soft rock cliffs, and standing masonry walls pay tribute to the early days of a culture that still survives in the surrounding communities.
This living history museum, located just south of Santa Fe, recreates 18th-century ranch life. Guides, dressed in period clothing, show how people lived in early New Mexico.
SANTA FE PLAZA
Listed on the National Registry of Historic Places, the Plaza is the heart and soul of the city. The gathering spot for residents and tourists alike is surrounded by city landmarks, shops and restaurants.
Just beyond the edge of Santa Fe and a short hike through the deep silence of the terrain lies a rocky ledge that seems to whisper to passersby, the dark stone speaking a cryptic language. Carved into the boulders of the ledge at the La Cieneguilla Petroglyph Site and throughout the Southwest are thousands of petroglyphs thought to originate from the pre-contact time of the Spanish colonial era. Despite a great deal of scholarly study throughout modern history, no one can say for certain what these depictions meant to the people who created them. Not only does their meaning remain shrouded in mystery, but many of the etchings' depictions are indecipherable, leaving curious visitors to speculate.
THE CATHEDRAL BASILICA OF ST. FRANCIS OF ASSISSI
Situated in the Santa Fe Plaza, this cathedral was built in 1886, and is known for its beautiful Romanesque architecture. You don't want to miss this classic New Mexico cathedral.
The Georgia O'Keeffe Museum, in Santa Fe, New Mexico, opened to the public in July 1997, eleven years after the death of our namesake artist. A visit to the O'Keeffe Museum offers insight not only into the artist's paintings, but also her creative process and the light and landscape that inspired her. In addition to the main Museum campus in Santa Fe, the O'Keeffe Museum maintains O'Keeffe's two homes and studios in northern New Mexico, a research center and library, and a variety of collections relating to O'Keeffe and modern art.
One of the most significant artists of the 20th century, Georgia O'Keeffe (1887-1986) was devoted to creating imagery that expressed what she called "the wideness and wonder of the world as I live in it." O'Keeffe's images—instantly recognizable as her own—include abstractions, large-scale depictions of flowers, leaves, rocks, shells, bones and other natural forms, New York cityscapes and paintings of the unusual shapes and colors of architectural and landscape forms of northern New Mexico.